Recently I have been working on integrating an existing Polycom video conferencing system with a new Lync 2010 deployment.  As it turns out the newer software releases for Polycom have made great progress towards making the integration of Polycom systems with Lync easier.  I say easier, because it still isn't exactly easy.  There are many cool features of integrating Polycom and Lync.  By using a Polycom RMX, one can have continuous presence using the meeting room format.  This is something that was sadly left out of Lync 2010.  As most people who have used Lync 2010 will tell you, it doesn't do a very good job of switching between active speakers.
Integrating Polycom HDX 7000 and 8000 endpoints is VERY straight forward.  The only problem is if you don't have multipoint licenses you can only have a one-to-one call with a Polycom endpoint.  Hence the reason for an RMX.
Requirements for integrating an HDX 7000/800 with Lync 2010:
First off you will need a valid user account in Active Directory for each HDX endpoint.  As an example, we are creating a user called "Polycom LA", for our Los Angeles HDX 7000.  We will use polycomla@domain.local as the logon name.  Make sure password never expires and user cannot change password fields are checked. When this user is created, it will automatically be assigned a logon name in our valid SIP domain of @domain.org.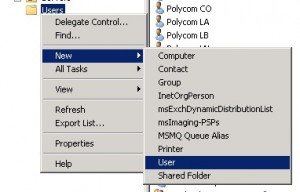 For further organization we use Active Directory groups to organize Lync users.  Later, we push these groups to the contact lists of Lync users with powershell.  For this example we are creating a universal security group called "wgrp-polycom".
Now we need to activate this new AD user on our Lync front end server.  Using the Lync server management shell: PS C:\>Enable-CsUser -Identity "Polycom LA" -RegistrarPool lync01.domain.local -SipAddressType SamAccountName -Sipdomain domain.org.
Just for the heck of it, and to allow easy visual identification of the Lync user as an actual Polycom system and not a human being, we add an AD image of a Polycom camera.  This corporate image will trickle down to Lync and make it look really slick.  You can use any free AD image attribute editor for this.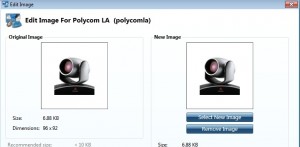 Finally, we need to configure the HDX with a SIP connection to the Lync 2010 server.  The thing to note here is the difference between User Name and Domain User Name.  The User Name field should contain the username for the primary SIP domain "polycomla@domain.org", and the Domain User Name should be the AD logon account polycomla@domain.local.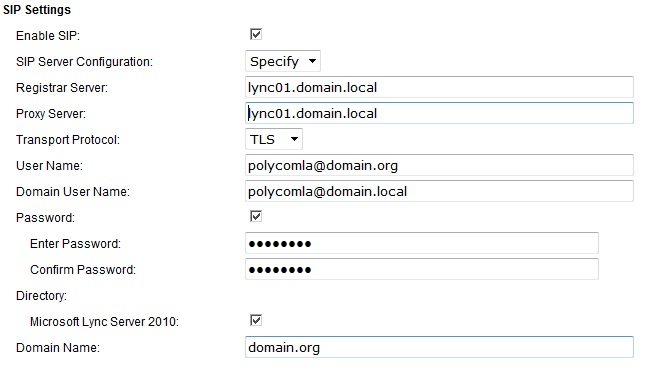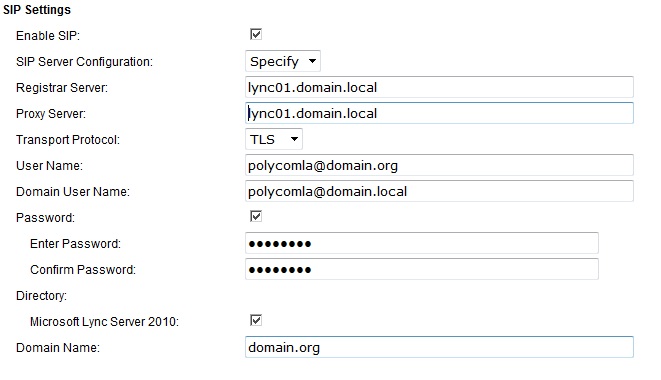 Now we can test the Polycom configuration by heading to the global directory and searching for a user.  If the integration with Lync 2010 is working correctly you should be able to find any active Lync users and call them directly.  You should also be able to find other polycom units if they were Lync enabled.  Pretty cool huh?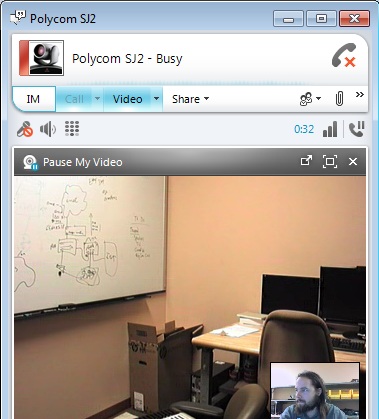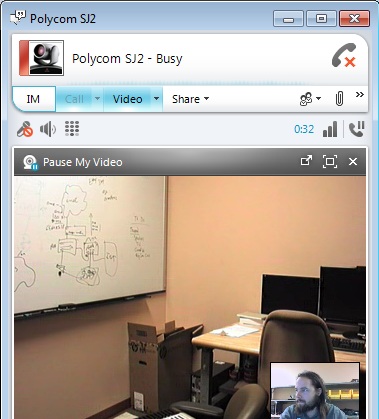 You can check the status of the registration with Lync on the unit itself or through the web interface, and the registrar server should have a green up arrow.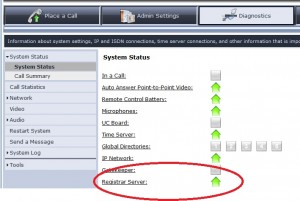 In my next post I will be going over the integration of an RMX 2000, including the issues I ran in to with the RMX being unable to contact the Lync SIP server.